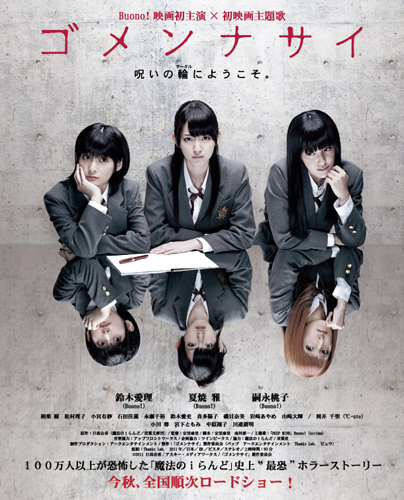 Details :
Tittle : 『ゴメンナサイ』 / Gomen-nasai
Also known as : Gomen-nasai
Genre : Horor
Run Time : 94 Minutes
Release Date : October, 29, 2011
Cast :
-
Momoko Tsunaga
as Sanada Shion
-
Miyabi Natsukiyaki
as Kurobane Hinako
-
Suzuki Airi
as Hidoka Yuka
Synopsis :
his movie is about a girl named Yuka. She attends to the same school as a girl with black hair, named Kurohane. Kurohane is a strange girl with great grades in school. However, she has a hard life in home, because her mother and father don't care at all about her. They only care about her sister, Kana. One day, Kurohane found she had cancer, but still, her mother didn't care at all, so she cursed her little sister Kana with words (by writing a short story that Kana read). Kana started having trouble breathing and died within a month. Kurohane tried the same with her mother but it didn't work, so she entered a competition to improve her skills. Her school life didn't go so well because her class mates were mean to her. She saw her opportunity of revenge when she was selected to write a script for the school festival play. She started cursing her class mates one by one. The only one that realized the curse was Yuka. She tried to stop Kurohane, by talking to her, but it was useless. Kurohane curse was also find out by the class mate she wanted to kill, so Kurohane tried a different way to kill her (since the short story was not going to work, because her class mate was never going to read it). One day, that class mate that she wanted to kill, transferred to another school, but appeared several days later to kill Kurohane ,and then killed herself, not because she wanted, but because she was cursed by Kurohane too (at this point, Kurohane curses were so strong that a person would lose control of her own body and kill herself). The new source Kurohane used was text messages. She also sent a text message to Yuka, but she never read it. It passed lots of time and Yuka was with her new class mates, telling them the story of Kurohane. They stole Yuka cell phone and saw the text message Kurohane had sent to her, including Yuka. Then, one by one, Yuka class mates started dying, leaving Yuka alone. And that's when she realizes that the way to save her is to get more and more people to read the words of Kurohane, because she didn't kill in order (the first person who reads dies first). She killed people randomly, so Yuka wrote a short story with Kurohane words in it and posted it online, increasing her time to live.
Trailer :
Picture Preview :
Download Link :
Versi Hebat ( Size 1,12 Gb ) :
Buono Gomen-nasai
Versi Hebat English Hardsub ( Size 1,15 Gb ) :
Buono Gomen-nasai
Versi Maknyus ( Size 4,3 Gb ) :
Buono Gomen-nasai
Lokal Maknyus ( Size 4,3 Gb ) :
Buono Gomen-nasai Part 01
Buono Gomen-nasai Part 02
Buono Gomen-nasai Part 03
Buono Gomen-nasai Part 04
Versi Hemat ( size 391 Mb ) :
Buono Gomen-nasi
Subtittle Indonesia ( None at this moment = sabar menunggu )