Movie ke 2 dari Super Sentai favorit semua orang...Oh, I miss Luka Millfy ( Mao Ichimichi )...
Title:
Kaizoku Sentai Gokaiger the Movie: The Flying Ghost Ship
Also Known As :
海賊戦隊ゴーカイジャーTHE MOVIE 空飛ぶ幽霊船
( Kaizoku Sentai Gōkaijā Za Mūbī Sora Tobu Yūreisen )
Country:
Japan
Language:
Japanese
Subtitle:
None
Year Realease:
August 06, 2012
Genre:
Tokusatsu, Super Sentai
Cast :
Sinopsis :
While on his morning jog, Gai Ikari finds the sky suddenly turning dark as a massive ship emerges from the clouds. Becoming Gokai Silver to investigate in Gojyu Rex, Gai is shocked to find what seemed to be Gokaioh appearing from the ship and attacking him. Defeating Gojyujin, Fake Gokaioh jumps back to the ship as it immediately disappears. Later, aboard the Gokai Galleon, the crew identify the mysterious vessel as the space-wandering ghost ship said to carry a fabled treasure known as the God Eye - which can grant any wish to its holder. Seeing this as a better opportunity to obtain the Greatest Treasure in the Universe regardless of the risks, the Gokai Galleon crew embark on a voyage to find the ghost ship and acquire the God Eye. The Gokai Galleon locates the ghost ship and makes port in its skull figurehead's mouth. After encountering a trio of annoying ghosts who unknowingly pointed them in the right direction, the Gokai Galleon crew reach the ship's main bridge and see the God Eye resting on the left eye of a giant skull. However, they are stopped by the ship's captain Los Dark, who reveals that he was luring would-be thieves to his lair as he sends the crew into a dimensional underworld so his minions can kill them and allow him to live again.
Trailer :
Maap, sy tidak dapat trailernya...
Screen Shoot :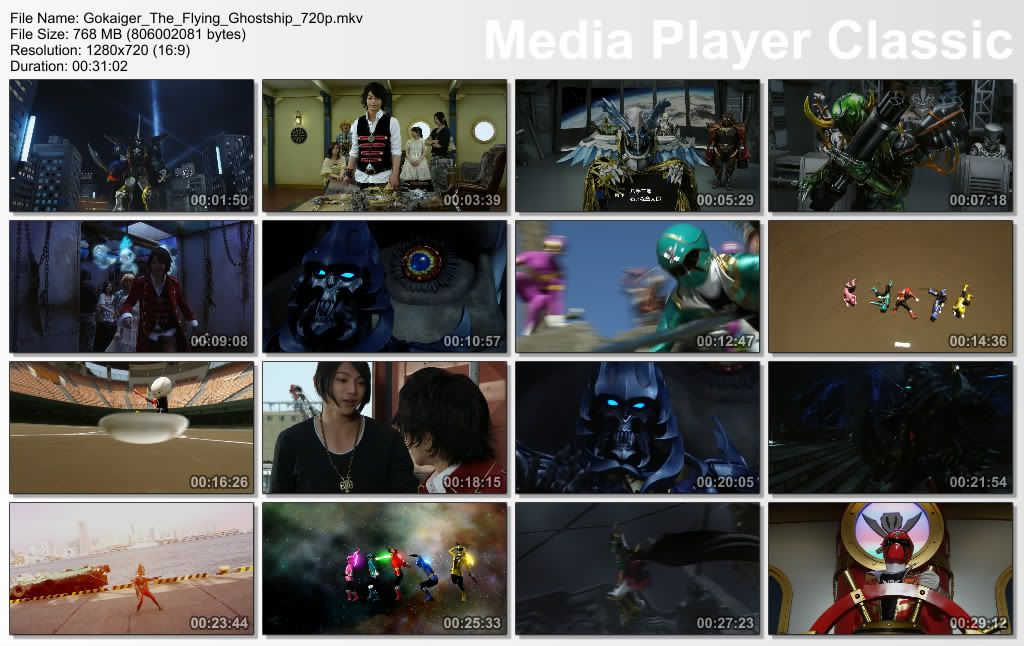 Download Link :
Link Luar :
Part 1
,
Part 2
Link Lokal
( Bisa Resume )
Silahkan disedot